Helping successful women lawyers become rainmakers
Since 1997, Sara Holtz has been helping successful women lawyers become rainmakers.
Whether the challenge is finding time for business development, optimizing current marketing efforts, or asking for business, Sara Holtz can provide the advice and support needed to overcome these obstacles. Her workshops provide the skills and focus needed for women lawyers to grow their practices.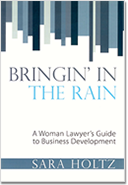 In Bringin' in the Rain, Sara Holtz sets out an effective approach to business development for women lawyers. Based on her more than 20 years of experience, it provides proven, action-oriented advice.
Available at Amazon
Sara Holtz hosts a podcast where experts and other accomplished women share what they wished they'd known earlier in their careers. To hear career advice for women by women,
click here
.